Best solution for efficient loading planning! | Optimize your loading plan with our easy to use software!

LoadingSimulator is a software to calculate optimized loading solutions to save logistic costs. LoadingSimulator calculate best loading solutions with balance and efficiency for items of various shapes and sizes.

By implementing LoadingSimulator
* You can reduce pallet, containers and trucks by improving efficiency.
* Quality of the logistics improved by calculating balance and reducing damages by rolling.
* Scheduling easier by calculating amounts of pallets and trucks.
* Less overtime work by knowing loading work and amount beforehand

Not only the function to reduce the cost of logistics by planning loading efficiently, there are other impacts to reduce costs.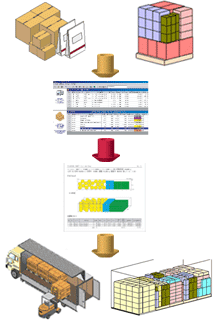 LoadingSimulator simulates the best loading plan for various items in different shapes to optimized loading by calculating weight balance and loading efficiency.
To prevent damages by rolling of the containers, the plans are calculated with weight balance. Simulation is based on various sizes as containers, truck, pallet and boxes. You can calculate Pallets and Trucks of original sizes too.
LoadingSimulator is a system with experts' knowledge and experience.
Reports can be made in Excel format. And it can be manually modified in 3D if your customer requests. Can be used as a loading instruction with loading images and loading details.

LoadingSimulator calculate optimized loading plan for large amount just in one second. You will get detailed loading plan by containers using cross tab function to avoid order loss of containers. And loading plan with quality are used as shipping instructions.
LoadingSimulator five features are:
1. Grasp efficient loading plan with ease
2. Improve transportation quality by considering balance to avoid collapsing
3. Figure out the right amount of containers by items
4. Calculate various sizes of containers
5. Modify the size of containers - Can be applied for Pallet, Boxes and Trucks.

Computation Engine is an algorithm for calculating optimized 3D loading plan to reduce costs for logistics.
With LoadingSimulator, various Computation Engines are provided for specialized items like Containers and two-wheel vehicles to mixed loading to Pallet loadings. Customization is also available on your requests.
Container Computation Engine
*Vehicle-Leveling : For loading to Container and Truck in 2 rows. Leveling the quantity by Order No.
*Vehicle-General : For loading various types and volumes. The items of same sizes are calculated in blocks.
*Vehicle-Specialized : Specialized for loading two-wheel vehicles.
*Vehicle-Parts : For loading large items to Container.
Pallet Computation Engine
*Mix Loading on Pallet : Computation Engine for palette loading
Cylinder Computation Engine
*Cylinder Vertical Loading : Computation Engine for Cylinders. Can be mixed with boxes.
*Cylinder Horizontal Loading : Computation Engine for Cylinders for horizontal loading. All items should be cylinders.
BOX Computation Engine
*Mix Loading for Outer Carton : Computation Engine used for various sizes of inner boxes to outer carton.